Why You Are Told Not To Wash Your Belt In Martial Arts
        When you start training in martial arts you most likely will either be told not to wash your new belt that you got with your new uniform when you sign up or you have read instructions on something somewhere that told you not to wash your belt. There are reasons why you should not wash your belt, but they have nothing to do with fantasy stories.
The main fantasy story you hear is that ancient old masters of martial arts (yet the belt system was introduced only in the 1880's) never washed their belt and did not have new belts given to them. They wore a white belt and through years of hard training with sweat, dirt, blood etc. it became black. That means the black belt is a symbol of that hard work. This sounds good and all but it is not true. No martial arts masters ever did anything like that, and if they did it would be gross.
It is a nice story and philosophy though. Working hard and your pure effort is what makes you the master. The concept is interesting but still, why not just more than one belt if it is pure hard work that matters? Like you could not buy a black belt, you had to earn it by sweating on a white belt and rolling on the dojo floor, fighting people in challenge matches, getting their blood and your own blood on it. To me that sounds very gross and unhygienic. Would you want to practice with someone with a belt full of nasty bacteria on? Judo, Jiujitsu, Karate, Taekwondo, Hapkido, whatever. Do you want to be grabbing on, or even close to another guy who has such a belt around his waist? It would be very gross and probably smell.
Some dork made up this story to sound very mystical and it is just a silly martial arts myth to attract students and sound profound. I was told this in my first Taekwondo gym and believed it. But growing up I realized this could not be true. Why would you wash only your uniform, but not your belt? Japanese, and most Asians, are very clean people who want to make things nice and hygienic. There is no way that they would think having a nasty belt is important or good. They had to have washed their white belts with their uniforms. When people trained in martial arts in the old days, even ancient days, nobody wore special colored belts. They wore whatever training clothes were used at the time. They obviously washed everything when it needed to be one. When Jigoro Kano who invented Judo and the martial arts belt system idea started out he only had white belts and later added the black belt. Over time he added color belts. People washed their belts. They wouldn't want that filthy piece of cloth in their dojo rolling around. People always hung dry clothing because they had no dryer machines. They most likely did not wash dark black belts with white gis either. And color belts students probably washed their belts in a separate bucket or basin as to not mix colors into the white clothing. Most likely they did not have to wash their belts as often as their uniforms as the cloth is smaller, and a thicker piece that absorbs well and dries off. But still there had to be times they needed to wash it.
Now days we use washing machines and dryer machines. These things can cause shrinkage of cloth. One reason you do not want to wash your belt is because it will shrink. If it fits you well you do not want it to shrink. But if you wash it once in awhile and air dry it, it should not shrink. So only washing when necessary is important. Not every day.
Another problem is color fades. Some of the dyes for color belts are very strong and can spread in the wash into other garments. I remember the green and red belts in Taekwondo had very strong dye that would even stain the waist of my white dobok through my sweat. I could only imagine what would happen if they went into the washing machine with white shirts. Not good. I never washed my color belts. Also, in Taekwondo color belts are only worn for about 3-4 months if you are regularly training and testing for the next keup ranks. So the amount of times you would need to wash them are slim to none.
In is my opinion that martial arts uniforms should look clean and good. It is part of the discipline. If you are a color belt you want people to see the color easily. Why fade out your green belt? It looks ugly. Why fade out a yellow belt? You worked hard to earn that color so why make it white again so fast? It just does not look good to have an old faded color belt. In the military they make sure that your uniform is worn correctly, and up to standard and clean. They want it to look good. I think the martial arts uniform should also look good including the belt.
In other martial arts styles like Brazilian Jiu Jitsu you hold your belt colors for much longer and have more ground and intense sweating moment between 2 bodies. Very close contact and grabbing and jerking the belts during sparring. You probably have a white belt for about 2-3 years and same with the blue belt etc. It is much slower to rank in this martial art. Once in awhile in that amount of time your belt is going to get caked in salt and dojo mat filth that you will need to wash it. Throwing it in the washing machine is a good thing. If your belt is blue or purple just put it in with like colors, or by itself. Air dry it. But usually you do not want to wash your belt for reasons mentioned above. Another reason is the tape on your belt for stripes in BJJ. Most tape stays on in the washing machine, but over time will peel off easy and need to be replaced. During my time in BJJ I washed my white belt several times, especially during the hot summer in Korea when I was training there. The tape stayed on.
In Taekwondo washing your black belt fades it and makes it a lighter color. A lot of people think having and old black belt that is used up is somehow super cool and important. Somehow it "proves" you trained hard and are a master. As if your physical prowess does not prove it enough, they need some fashionable belt that looks gray, peeling off the surface, sides all tethered, tags missing and rubbed off, and almost white in color. They believe it has some symbol of working hard to turn your white belt black, then somehow, for some reason, not based on science, the belt then turns white again through more sweating, blood, dirty from training. This is impossible and also stupid. Why would you want that to happen? Do you really think that if you rubbed a white cloth in dirt for 20 years and other nasty stuff it would turn black then turn white? No…it won't. How anyone came up with this is probably because they wore cheap black belts with a white layer underneath the black part. Through peeling, ripping, and washing and faded their belt the dyes washed out and underneath the layers became exposed. So they thought "Oh this must be some oriental philosophy of reincarnation and rebirth! So philosophical and so deep!!!" Probably some western dork made this up, or some Asian trying to take advantage of stupid foreigners gullibility for all things eastern and mystical. Emotional man!
There is no way this guy could have gotten belts to look this ratty and torn up from the few amount of years in between each belt without him purposefully ripping on them and washing them over and over. He is claiming that within 6 years or his black belts got this old looking! Impossible unless he buys the absolute most cheapest and poor quality belts on the market! If you earn a black belt or master rank wouldn't you want your belt to last and be the highest quality? People have 1 belt the ends up this way but he has 6! Yeah right…
Like I said before, I think the martial arts uniform should look clean, pristine, bright in color with belts looking good. Of course tying a belt over and over may cause parts of it to tether but there is no reason the belt should look like it was found in a garbage bin. Some nominal fading will occur if you wash your belt once in awhile. I have probably washed my black belt 4 times in my life. Once because an older belt was cheap and thin and sweat caked up on it and it was gross. The latest belt I have I washed it a couple of times because it got very sweaty. So far it is still very black. Other people want to wash their belt over and over on purpose in hopes it faded and makes them look super badass like they trained for millions of years. I think this is silly and dishonest and makes you look like a tool. Especially if you are young. I remember seeing that blogger and youtube guy Karate by Jesse have almost a pure white belt on with a couple of black marks. What is that kid in his 20s? SO STUPID! No way it happened through training!
       This belt was about $35 listed online. Mooto has some cool looking Taekwondo uniforms but this kind of stuff really angers me. I wear Mooto all the time, but I think they should stop making pre-worn out and made to look old belts
        What is even worse is some companies sell faded black belts to look like grandmaster belts. I like my Mooto black belt, but this company actually sells an $85 belt made to look old that some suckers will buy to feel important. I hate this kind of stuff! How lame it is for people to buy a belt to look old. How fake! How pretentious! How idiotic and morally wrong!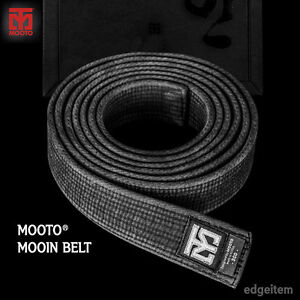 The $89.50 belt.
        Just wear the belt of your rank! If it is black then make sure it is black! If you need a new belt then get one! What are you doing to your belt, and what cheap lame quality of belts are you wasting money on, to make your belt look sooooo old and used up and nasty? You want an old belt that hardy keeps your dobok or gi closed because it is so tethered the knot never stays tight? What is the point? You don't look cool! You look dumb! What is the point if other people can kick your ass if you have an old belt on? Make sure your skill is good!
Over the years exploring other martial arts beyond Taekwondo I have found myself just wearing athletic clothes and training poomsae outside and wearing MMA clothes often to work on kickboxing. I still wear my dobok with pride, but what I am saying is many years I have not even worn a belt. The sweat and wear and tear will no be shown on my belt since I was not wearing it sometimes. But does it mean my skill is not there? The wear and tear on my body is what matters to me. Not a piece of cloth.
In this documentary an Okinawan Karate master tells a foreigner traveling to train under him to take off his belt and not care. The master himself is only wearing shorts and a tshirt. He is giving the foreign students a lesson in humility and destroying your ego.
This master does not wear an old worn out belt. He does not even wear a belt anymore!
Wash your belt to the absolute minimum, but make sure you wash it. Do not wash it over and over either. Only as needed and to make your uniform look good. If your black belt fades some it's ok. If it does tether some and have rips after 20 years so be it. There is nothing wrong with that. I have seen grandmasters with older looking belts that are obviously worn. But they look nothing like some of the ridiculous things I have seen on the internet. Wearing the belt your master gave you when you reached your rank is a sentimental thing. But it is also okay to buy a new belt too. In my opinion a belt is great to wear. It is earned, it is sentimental, it is honorable, it is motivating, it identifies your mastery, and is an overall positive thing. But there are times you don't need to prove anything with a belt either. But when you wear a belt why not wash it if you need to? Just make sure with like colors as not to stain other clothes. Make your uniform clean and nice! Over the years you most likely will have a slightly faded belt with some tears here and there and that is okay, but should not be your goal! your goal should be your physical skills and strong character from a life of martial arts training! You will be in your 60's before your belt gets that tethered!!!