What The Heck Is A Chodanbo Rank?
        The "Cho Dan Bo," or "Chodanbo" rank is often heard of in Korean martial arts. I first heard it when I was a high color rank belt. I was told there is a belt rank before black belt called Chodanbo. It was a black belt with a re stripe going through the middle of it. I was told by my instructor that it means "temporary black bet." I eventually earned this rank before I tested for full black belt.
Later when the internet was more popular and more martial arts websites were up I heard of chodanbo being a rank in Tang Soo Do. Some people said chodanbo was like the poom (or pum) rank, which the Kukkiwon considers a children's "junior black belt" rank before receiving full dan grades as an adult. Some websites show the poom belt which is half black and half red, with black being on top and red on the bottom of the belt. I have seen it reversed as well. Other Taekwondo school's websites would show the black belt with red stripe down the middle like I had, but others switch out a red stripe for a white stripe going down the middle. And lastly, some schools use a red belt with a black stripe going down the middle and call that chodanbo.
Various examples of "chodanbo" belts: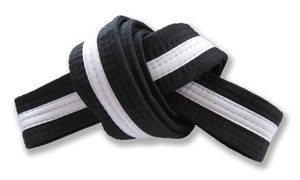 But typically most schools use this color scheme as the guy on the left:
I always thought this was weird as so many definitions for this rank exist such as "temporary black belt," "pre black belt," "probationary black belt," and "deputy black belt." If you try to find a Korean person who can tell you what the heck "chodanbo" actually means in Korean they won't know. So far every Korean friend is confused and clueless except they understand that "chodan" means first degree. In Korean you can say "cho dan" or "il dan" for 1st dan. But nobody knows what the "bo" part means. Is "bo" even a Korean word? I thought it was possible it means "bu" as in how kicho forms are called "kicho il bu, kicho yi bu, kicho sam bu" etc. But no, I was told it made no sense. So it is not Cho Dan Bu. So where did this term come from and why do Taekwondo masters use it for their students? The obvious answer people will claim is "to make more money on an extra belt test" which is true in many cases, but I do not believe it exists simply for that. It is a transitional rank between the color belts and black belt. It is usually the rank of 10th keup which is right before the dan grades. Did Tang Soo Do start this fad?
As I was talking to my Korean buddy who is an MMA fighter he told me if you were going to say something like "previous or pre" you should say "yebi." So a term that Koreans would ACTUALLY understand it "yebi chodan." So preliminary, or reserved 1st dan is the exact translation. It makes way more sense and Koreans would understand what you are saying.
Now if you want to be suer technical you could say "yebi chodan gum eun" which means preliminary 1st degree black belt in English literally translated.
I do not think the concept of the Cho Dan Bo rank is a bad idea in itself. I had to go through it and earn it (by the way my instructor in the 1990s did not charge me a crap ton of money for the rank either) and I had to wait 6 months before testing for black belt. But from now on if I am going to promote that philosophy and concept for a belt rank before black belt I will use the term "yebi chodan." It is a real Korean term in their language.
If anyone knows the history or where the term chodanbo came from please let me know in the comments. Personally I think the color of the belt SHOULD be a black belt with a red stripe going down the middle since you are transitioning from a red belt rank into black. A white stripe looks dumb to me, and half red and half black is reserved for the Junior Black Belt rank which is called a poom grade.